Jenny Eakin Delony (1866-1949) – Excerpted from Arkansas Made, Volume 2: A Survey of the Decorative, Mechanical, and Fine Arts Produced in Arkansas through 1950, 2nd ed.
Few Arkansas artists have achieved the level of international success and regional influence of Jenny Delony, a prominent painter and instructor who helped to establish collegiate fine art education in her home state. The Hempstead county native lived in Washington, Arkansas, until she departed for Virginia to complete her schooling at the Wesleyan Female Institute. Though she won medals in art and music there, her formal study of art did not begin in earnest until 1886, when she enrolled in the Cincinnati Academy of Fine Art.1
After completing her preliminary studies in the states, Delony "visited practically all of the famous art galleries of Europe" and studied at respected Parisian institutions including the Académie Julian, Académie Delécluse, École de Beaux-Arts, and within the atelier of French artist Paul-Louis Délance (1848–1924). Her admission into the École de Beaux-Arts occurred in 1896, the first year that women were admitted to the prestigious school. This same year she would also become one of the first women permitted to study artistic anatomy at the École de Médecine. After returning to the United States, she studied with William Merritt Chase (1849–1916), an esteemed American impressionist who operated an art school at Shinnecock Hills in Long Island.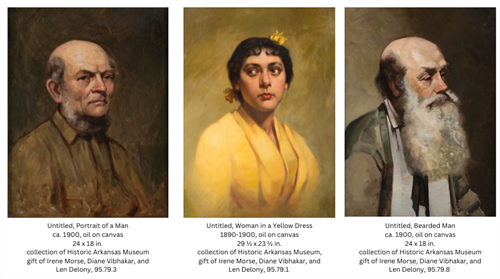 In 1891 Delony came to Arkansas to establish her first professional studio in Little Rock. A photo of the artist in this space shows her seated before her easel, at work on a child's portrait. The modest room contains a cast iron stove, a folding chair, a plaster female bust, and some house plants, while the walls are covered in her paintings—portraits, allegorical scenes, and floral still lifes. After a brief period of teaching art at women's schools in Roanoke and Norfolk (Virginia), she returned to Little Rock to establish her second studio in three rooms on the third floor of the Masonic Temple on Scott Street. An Arkansas Gazette from that year advertised an "Art Exhibition," inviting readers to "Call at the Southern Art School . . . and see the handsome display of paintings from European galleries, and decorated china work of Mrs. Jenny Delony-Rice, now on exhibition and sale."2 Under the name "Southern Art School,"3 the artist offered classes to the public. A newspaper advertisement from the period declares, "All branches of drawing, painting and decorative design taught from cast, still life and life models. Portraits painted from life or photographs in oil, pastel, water colors and crayon. Miniatures on ivory and porcelain."4 The ad lists Delony as the director and her younger sister, Daisy Delony, as the assistant-director.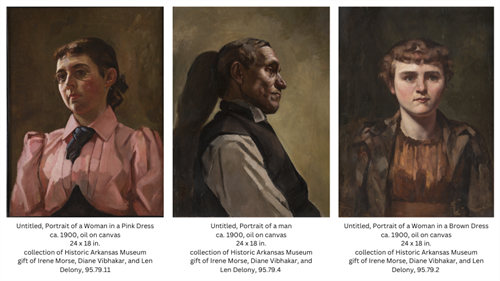 During the last quarter of the nineteenth century, Delony achieved a prolific output of work. Though easel and miniature portraits formed her bread and butter, the artist also painted subjects including landscape, still life, genre scenes, and wildlife. She exhibited her work widely, representing Arkansas in a variety of expositions in locations including New Orleans, Chicago, and Atlanta. She worked predominantly in oils, and signed her surname in a myriad of combinations that changed with her marital status, including "Delony," "Delony-Rice," "Rice-Meyrowitz," and other variations thereof.
In 1897 Delony became the first director of art at Arkansas Industrial University in Fayetteville, which became the University of Arkansas by the end of her tenure. Though she was only in Washington County for four years, she certainly left her mark, leaving as her legacy a promising art department and what would be the first baccalaureate art program in the state of Arkansas.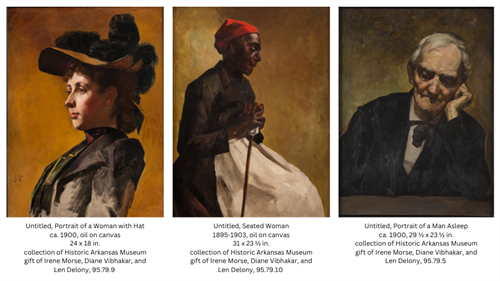 By the turn of the century, the artist returned to New York to set up a studio, continuing to advertise her commissioned portrait services, "from life or photographs," in Arkansas newspapers.5 In 1904, Delony, who proudly embraced her identity as a suffragist and feminist, was in the papers again, this time because she was elected to represent American women as an arts exhibitor at the International Council of Women in Berlin. This great honor was followed by many others, including an important portrait commission the following year in which she painted a full-length portrait of "the richest woman in America," American businesswoman and financier Hetty Green (1834–1916).6 This portrait placed Delony in the national spotlight when a full-page image of the portrait was published in the New York Times. Following the dissemination of the portrait, local newspapers reported that the artist had received the "highest praise . . . from the best art critics in the country."7 She remained in New York until 1935, when she moved back to Little Rock for the final time. Though she continued to paint from her home studio during her retirement, her output became more modest.
Jenny Delony won the extraordinary respect of her peers and will be remembered as a consummate master of her craft who paved the way for countless Arkansas educators and students to pursue the study of art. Many of her portraits of celebrated Arkansans can be found in private and public collections throughout the state.
---