The Arkansas Natural Heritage Commission (ANHC) has a small staff and a big mission, so we often rely on volunteers to increase our reach. One way that volunteers can help us is to gather images and specimens of the species in the state, especially those that are rare or poorly known. One of our most prolific volunteers in these efforts is Jim Keesling of Hot Springs Village.
Jim, a retired engineer, moved to Arkansas from Kansas in 2005. He and his wife began hiking local trails in order to enjoy the birds and wildflowers and Jim began taking photographs of wildflowers to share with his family. Curious about the names of the plants he was photographing, he picked up a few field guides to assist in identification. He eventually contacted ANHC botanist Theo Witsell when he got into some difficult species not covered in the books.
Witsell could tell right away that Keesling had more than a passing interest in the subject. "I get lots of calls and emails from people curious about a tree or wildflower they found, but I could sense an uncommon level of interest and passion from Jim almost immediately", says Witsell. "Jim had no formal training in botany, but picked up even the most technical aspects remarkably quickly."
With an analytical engineer's mind and a refined eye for detail, Jim began sending in detailed accounts of interesting species he found. These included multiple photographs (showing various parts of the plants), detailed descriptions of the plants and their habitats, and GPS coordinates documenting where he saw them. As he began to report species from counties where they had not been documented by an herbarium specimen (the official scientific record of plant occurrence), Witsell asked if he would be willing to collect pressed specimens to become part of the permanent record. Jim agreed and borrowed a plant press from the ANHC. This was the beginning of what has now become the largest contribution of specimens to the ANHC Herbarium from anyone outside of the ANHC staff – more than 720 unique collections as of the end of 2016.
"I remember Jim saying he wasn't going to get into some of the more difficult groups like the sedges and grasses," Witsell said. "I just smiled and said 'I don't believe that for a second'. And sure enough, within a season Jim was sending photos and specimens of the toughest sedges and grasses." Asked to describe a particularly memorable or rewarding find, Jim talks about his discovery in 2015 of two bluestem grasses not previously known from Arkansas:" Cane bluestem (
Bothriochloa barbinodis
var.
perforata
) is native to the southwestern US, and long-spike bluestem (
Bothriochloa longipaniculata
) is native to the Gulf Coastal Plain. There are a lot of similar, yet-to-be discovered species just waiting to be noticed."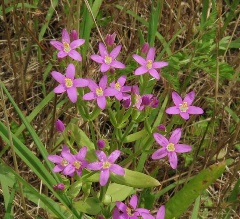 In fact, Jim has discovered a number of species not previously known from Arkansas, and they aren't all as inconspicuous as grasses. One of the most interesting of Jim's finds was the discovery of a small but showy non-native wildflower called slender centaury (
Centaurium tenuiflorum
), which he found in Saline County in 2015. Since then he has found it in Ashley, Drew, Jefferson, Lincoln, Pulaski and Union counties as well, spreading by the millions along highway corridors. Jim even co-authored a
paper
in the online scientific journal Phytoneuron reporting on this important discovery.
But of the greatest interest to us at the ANHC are some of the rare native species he has found new-to-Arkansas. These include Nuttall's thistle (
Cirsium nuttallii
) and Canada St. John's wort (
Hypericum canadense
), both of which are now on the state's list of species of conservation concern maintained by the ANHC.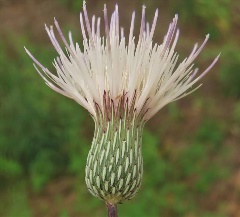 Jim is currently involved in helping the ANHC by collecting specimens of hawthorns from across the state. This is a notoriously difficult group of plants with many rare species in the southeastern U.S. and Jim's work is already bearing fruit. In 2016 he found several populations of Ouachita hawthorn (
Crataegus ouachitensis
), a species known only from the Ouachita Mountains and last seen in the wild in the 1920s. Last fall renowned hawthorn expert Ron Lance traveled to Arkansas to see this re-discovered "lost species" and take samples for further analysis.
Jim says volunteering for the ANHC "has been extremely rewarding and helps keep me fit and entertained. I find plants so interesting! If you stare at a small patch of ground, you'll see several species. Stare a bit longer, and more species will appear. Get down closer to the ground, and there are additional colonies of interesting plants that you've never seen before. Return to that site a few days or weeks later, and a new group of plants will be occupying that space."
Photos:
Main — Jim Keesling (left) with hawthorn expert Ron Lance (right) on a trip to collect specimens of Ouachita hawthorn (
Crataegus ouachitensis
), last seen in the wild in the 1920s before being rediscovered in 2016 by Keesling. Photo by Theo Witsell/ANHC.
Photo 2 — Slender centaury (
Centaurium tenuiflorum
) was discovered by Jim Keesling in Saline County in 2015. Photo by Jim Keesling.
Photo 3 — Nuttall's thistle (
Cirsium nuttallii
), a rare species of Coastal Plain pine savannas, discovered new-to-Arkansas by Jim Keesling in 2016. Photo by Jim Keesling.