"My name's James Kimberly, but everyone calls me Kimbo."
When it comes to the art of pottery, James "Kimbo" Dryden has been doing it his entire life. His dedication to the craft of pottery, and his many other accomplishments in his 40-plus years as a potter, has earned him the title of 2022 Arkansas Living Treasure.
Dryden laughed when asked how it felt. "About time," he said. "I'm just a potter. It's an honor, you know?"
The honor and legacy also belong to Dryden's father. "Should've been my dad," Dryden said. "Without him, I would be digging ditches or be in jail."
Dryden Pottery is a true family tradition. His father, AJ "Jimmy" Dryden, started Dryden Pottery in Ellsworth, Kansas, in 1946. Of those early days Dryden said, "We just made little figurines and little mugs, it wasn't really artware it was just souvenirs. Seems like it took my dad a long time to figure out we're making fantastic art pieces."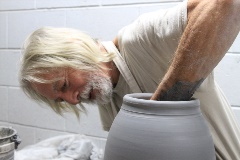 In 1956, when Dryden was 3 years old, his father moved the pottery business to its current location at the foot of West Mountain in Hot Springs. Dryden said about the area at that time, "There was no art in 1956 when we moved here. I don't think there was any kind of art at all. There [were] tourist attractions like the zoo and alligator farm but as far as I can remember there wasn't any kind of art in Hot Springs in 1956."
Dryden was put to work by his father as early as 10 years old. He first started his training using a kick wheel. In 1970, Dryden studied his craft at Big Creek Pottery School in Davenport, California. When he set off to California his dad gave him the advice not to tell the other students his family owned a pottery studio because everyone would be clamoring for jobs. In the end, he did bring several of his classmates to Dryden Pottery over the years and cases in the showroom feature works by many visiting artists.
Back in Hot Springs, Kimbo returned to the factory creating mugs, vases, plates and more. But Dryden said he gets inspired the most when he's playing around, "Right now I just go by ear or whatever, I don't have anything in mind. If you're making mugs, of course you know you're making mugs. I'm just making a vase so I'm just playing around."
One thing you can't miss when you walk into Dryden Pottery's showroom, is a nine-foot tall vase surrounded by mirrors with the claim "World's Tallest Wheel Thrown Vase." Dryden said he made the piece because of a challenge from his dad in 1978. "He said, 'How big of a pot can you make?' and I said I don't know," said Dryden. "That's my dad's idea. I wouldn't have done that because I had to stop making everything else. That's all I made for a week or so is that one big vase so I wouldn't have that on my own, that was my dad's idea."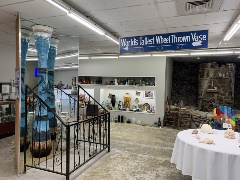 Since moving the Dryden pottery business to Arkansas, their process uses Arkansas novaculite in both the clay of his pieces as well as the glazes, which is unique to his pottery.
Dryden Pottery uses about 20 different colors, all formulated in-house using different metal oxides and available materials that result in a recognizable look and style, which is why the family's slogan is "A Melody in Glaze." Dryden's son Zack said, "You can pretty much look at our pottery and from the characteristics you can just tell by looking at it if you're familiar with it, you can tell it's Dryden."
When Dryden was first founded, Jimmy Dryden created pieces that were blue and brown with green decorative colors, but since the newest generation has taken the helm, the colors have brightened up significantly.
"Things progress, things changed. People are sick of brown stoneware. It's all the same color. Dull, brown," said Kimbo Dryden. Zack Dryden said, "These days people want something that's unique."
Kimbo Dryden said, "Yeah, one of a kind, unique pieces you can't find anywhere else, that's us."
Although Dryden retired in 2013, his son Zack has taken up the mantle of Dryden Pottery, continuing the generational creativity of his father's and grandfather's business.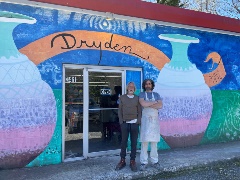 Zack Dryden said, "I love my dad. He's a good guy; he's always been kind-hearted to me and my brothers. Him, along with my grandfather, really pushed us, encouraged us to be in the business and make it a family affair."
Zack considers himself lucky that he has grown up surrounded by amazing creativity. He said, "I got to watch Longhua (Xu) sculpt and I tried to take it all in I watching him sculpt a lot of pieces and make molds and I was lucky, so lucky to be able to have learned that stuff and actually have taken it in and carry it on because it's a huge knowledge base, so much, people don't realize the library of knowledge in a mind that's been doing it for 45 years."
Zack says there no end to the pool of creativity in shape, form and color combinations, "You can mix color, shape and form endlessly and never do the same things twice and it's just beautiful. I think its divine to be a potter. It's not work, it's play. We play with clay. "
Kimbo Dryden hopes people see his talent in his pieces. He said, "Somebody asked me what part of it do I like the most: the throwing, the glazing the mixing of clay. And I thought for a while and I said I don't think about it like this. It's just what I do."
When asked where he thinks the future of Dryden Pottery is headed, Zack said, "We just keep chucking along and making one-of-a-kind, unique pieces that inspire everybody to keep up the heritage, tradition because there's not a lot of potters. There are a lot less potters than there are doctors and lawyers and I think its underappreciated sometimes."
###
For the last 20 years, the Arkansas Living Treasure program recognizes an Arkansas creative who excels in the creation of a traditional craft or folk art and who preserves and advances their craft through community outreach and teaching others.
"Kimbo Dryden is a compelling addition to our Living Treasure program," said Stacy Hurst, secretary of Arkansas Department of Parks, Heritage and Tourism. "His lifelong passion, dedication and mastery of pottery has not only added to his family's heritage, but to the heritage of Arkansas."
Since 2002, the program has honored artists in various categories such as woodworking, quilting, weaving, bladesmithing and more.
"It's important to celebrate the cultural significance of the arts in Arkansas," said Jimmy Bryant, director of Arkansas Heritage. "The Arkansas Living Treasure program is an excellent way to honor those who have dedicated their careers to sharing their creativity and artistic skills."
Dryden was chosen by an independent panel of judges. He will be honored at a ceremony Friday, May 20.
Patrick Ralston, director of the Arkansas Arts Council said, "Kimbo Dryden is truly a one of a kind. His skill, creativity and passion can be seen in every piece of pottery he throws. It's an honor and a privilege for the Arts Council to present this award to him."
For more information about the Arkansas Living Treasure Award, contact Scarlet Sims, artist services manager, at 501-324-9348 or [email protected] or visit www.arkansasarts.org.