(This is the second in the Eccentrics, Gadflies, and the Offbeat in Arkansas Politics series about some of the more offbeat and colorful personalities that have graced the political history of Arkansas.)
Radio personality, minister and politician James Knott Mackrell, was known by generations as 'Uncle Mac.' He reached the height of his influence as a representative of rural Arkansans fighting against modernization moves, most notably school consolidation. He tried to parlay his celebrity into the state's highest office, among other political pursuits, which ultimately proved detrimental to his religious ambitions.
Toward the end of his life, he made one last bid for office, but by that time, he was mostly considered an eccentric throwback to the past.

MacKrell was born in Houston, Texas, on Aug. 8, 1902, and lived in Texas until he was 27. He attended primary and secondary schools as well as Southern Methodist University in Dallas, yet left without earning a degree.

After relocating to Arkansas, he settled in Fayetteville where he worked at a radio station for one year before moving to Little Rock to work for station KLRA. In 1931, MacKrell married Bess Irene Townsend of Conway, and they had four children, including James "Jim" MacKrell, who would one day become a nationally known broadcast personality.
Beginning in 1934, he hosted a Sunday show where, among his activities, he read the funnies section of the Arkansas Gazette to children. (Many families couldn\u0027t afford newspapers during the Great Depression.) He was one of KLRA's most prominent broadcast personalities for more than two decades. His most popular program was "Bible Lover's Revival," which aired from 1938 to 1948.
During his time at KLRA, MacKrell also pastored various churches in central Arkansas, most notably All Souls Church at Scott and Park Place Baptist Church, which was originally in downtown Little Rock, but in recent years relocated to Bryant. He also founded Arkansas Academy, an orphanage first established in the Stone County town of Arlberg. The orphanage later moved to Mabelvale after a catastrophic flood damaged the building in 1937.
In order to raise money for the orphanage, MacKrell sang in a quartet and preached from stumps or any other platform. He passed around a milk bucket to collect donations at those meetings. Later, he published a newspaper called "The Voice of Arkansas: Uncle Mac's Almanac," as an outlet for his religious and political work as well as promoting the work of the orphanage.

After his Army service in 1944, MacKrell gravitated to the political arena by supporting Col. T.H. Barton's bid for the U.S. Senate. MacKrell rose to greater political prominence in 1946 when he campaigned for the defeat of Referred Act. No. 1, legislation that would have mandated large-scale consolidation of rural school districts.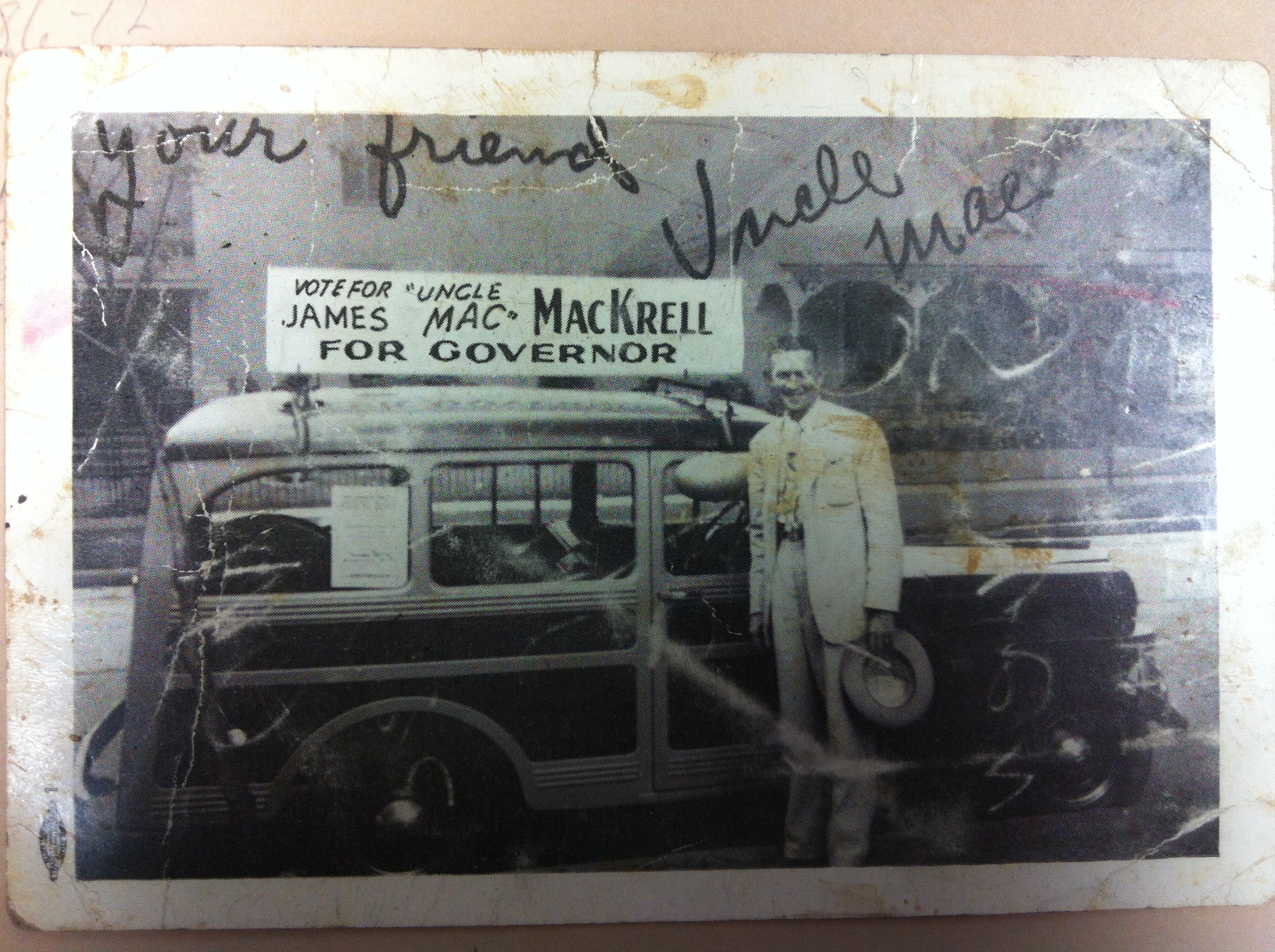 A hero to rural school advocates, MacKrell used his success on the issue to make a
bid for the governor\u0027s office. Although he earned a surprisingly solid 22 percent of the vote, he finished in third place in the Democratic gubernatorial primary of 1948. Ultimately, Sid McMath won despite MacKrell's support for McMath's opponent during the runoff. The gubernatorial campaign was MacKrell\u0027s most high-reaching and ambitious political effort.

In 1950, MacKrell made an ill-advised challenge to Lt. Gov. Nathan Gordon, a Morrilton attorney and Congressional Medal of Honor winner seeking the third of his 10 terms. The popular Gordon proved to be too much, and MacKrell's "pass the bucket" method of raising funds caused him to be branded as a "professional beggar."
Throughout the election, "Uncle Mac's Almanac" shared bible verses, promoted MacKrell's candidacy, sought funds for the orphanage, gave weather reports and shared advice on planting gardens.
In the end, Gordon humiliated MacKrell, who landed in second place after he garnered only 16 percent of the vote in the nine-man race. Gorden won 58 percent of the vote.
His 'pass the bucket' method of fundraising also failed to get the Mabelvale orphanage out of debt. It was forced to close in 1950 and was turned over to the Department of Welfare (now the Department of Human Services).
Losing the orphanage and two successive elections damaged his Arkansas prospects, so MacKrell moved his family to New Orleans in late 1950 and took a job in the public relations department of Petrolane Oil Co. (now part of Texas Eastern). MacKrell became the company's radio voice as "Colonel Petrolane."
In 1959, the family moved to Arlington, Texas, where MacKrell became head of a cooperative that built and financed churches. During the seven years MacKrell was at the helm, 59 churches were established. He returned to Arkansas in 1966 to establish a new church, East Side Baptist Church in Little Rock. The church developed a food commodities distribution program for the poor through a federal-state program. It ran for a short time before the City of Little Rock ordered the program shut down due to illegal use of a storage building as the program's distribution point.
He began distributing a new newsletter called the "Arkansas Bulletin" in 1969, as part of an organization he formed called the "Senior Citizens Union," which offered among other content, biblical homilies on "How To Be RichernRockyfella!" The next year, MacKrell changed his registration to Republican and filed in the GOP Gubernatorial primary against the incumbent governor, Winthrop Rockefeller, and two other candidates. Again passing the bucket at campaign events asking for $1 donations, his campaign seemed more like an appeal for the state to resume support for his commodities distribution program, and MacKrell and his two fellow challengers only managed a combined 7 percent of the vote against the billionaire incumbent. "Uncle Mac" only gained a third-place finish with just 681 votes as compared to more than 58,000 for Gov. Winthrop Rockefeller.
MacKrell never again sought office and returned to radio at station KVEE in Conway as the host of a nightly program called "Party Time." While interviewing a group of teenagers on the show on the evening of Feb. 27, 1972, the man known as "Uncle Mac" suffered a massive heart attack and died within minutes.
At his height, MacKrell was a well-known and formidable symbol of opposition of policies perceived as detrimental to rural communities, as well as a respected religious leader. By his later years, he appeared as a near-relic of Arkansas's agrarian past, which in his last campaign, he appeared to seek to relive.