The Arkansas Arts Council is pleased to announce the 2023 Individual Artist Fellowship grant for creatives living and working in Arkansas.
"These fellowships encourage and create opportunity for Arkansas creatives," said Shea Lewis, interim secretary of the Arkansas Department of Parks, Heritage and Tourism. "Not only do these grants recognize the incredible talent we have in our state, but they also provide much-needed flexible funding for artists who are the backbone of our state's creative economy."
The Individual Artist Fellowship grants are unconditional, non-matching awards made directly to individual Arkansas creatives. An independent panel annually selects artists from six categories to receive $5,000 each. Categories change each year.
This year, the Arts Council awarded fellowships in these categories: multisensory works with a tactile component, community engagement, contemporary craft with metal component, oil or acrylic painting on canvas, written theater monologue and stand-up comedy.
"We know that supporting individual creatives will not only translate into the preservation of Arkansas arts, culture, identity and heritage but will also continue to contribute to the growth of the overall economy through tourism and a creative workforce," said Marty Ryall, director of Arkansas Heritage. "The Individual Artist Fellowship award program is unique because it is statewide, and it allows the recipients to use funding to meet basic or ongoing needs. No other state or regional entity offers a grant like this."
For the second year, the Arkansas Arts Council awarded 18 fellowships, up from nine awards previously, thanks in part to funding provided by the Windgate Foundation, a private family foundation. The expansion is part of ongoing efforts by the Arkansas Arts Council to reach more of the creative community and bring more arts to more Arkansans.
"This year's selection of fellows is exciting because our independent panelists recognized a wide range of Arkansans that span a variety of genres, encompassing categories we have never before included," said Patrick Ralston, director of the Arkansas Arts Council.
This year's Fellows are: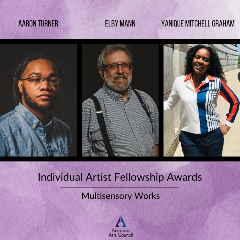 Multisensory Art
Aaron Turner
of Fayetteville is a photographer and educator. He uses photography as a transformative process to understand the ideas of home and resilience. He explores identity, history, blackness as material and abstraction music. He repurposes found objects, reimagines instruments and creates engagement through sight and touch.
Elby Mann
of Eureka Springs creates interactive sculptures infused with lights and music. After a 25-plus year career as a computer science researcher, he retired and has since devoted himself to the arts. Currently, he creates fanciful ceramic musical creatures with user controls to share experiences of playfulness and community.
Yanique Mitchell Graham
of Bentonville is a Jamaican-born artist who creates unique and challenging works that explore the human experience and universal consciousness. Her curious spirit continues to push the boundaries of her creativity. As a paper alchemist, she creates intricate visuals and tactile experiences that evoke positive energy and leave a lasting impression on the viewer.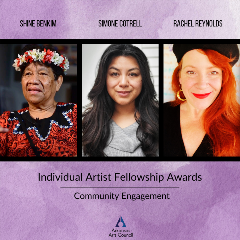 Community Engagement
Shine Benkim
of Springdale is a Marshallese elder and alap from Jaluit Atol, Marshall Islands. She uses traditional weaving, song and storytelling to share knowledge with youth and preserve Marshallese culture. She recently participated in Songs of Our Atolls organized by the Marshallese Education Initiatives and funded by CACHE.
Simone Cottrell
of Fayetteville is the owner of Rachhana Creative Consulting whose creative medium is justice. She utilizes a multidisciplinary approach when collaborating with communities to ensure that they are the advocates of their own realities. Simone's recent projects have included Ozarks cultural researcher and presenter with the Smithsonian Center for Folklife & Cultural Heritage, teaching artist with the University of Arkansas Spring International Language Center and community-engaged performance art
Where is Justice?
Including a variation of the work in 2022's Inverse Performance Arts Festival.
Rachel Reynolds
of Fox is a community organizer. She is head project steward at Meadowcreek, leading programming efforts that emphasize creating and supporting sustainable and equitable rural futures through the lenses of art and culture.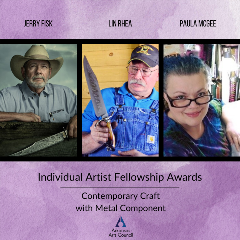 Contemporary Craft with Metal Component
Jerry Fisk
of Nashville is known in Brazil as the "Father of Modern Day Bladesmithing." He travels and teaches internationally and has influenced the knifemaking and craft community and industry with mastery of historical and traditional technique, and modern invention highlighted in his work. He was named a National Living Treasure by the University of North Carolina in 1999 and recognized with an honorary Arkansas Living Treasure Award in 2019.
Lin Rhea
of Prattsville is the 2023 Arkansas Living Treasure recipient, an award that recognized his mastery, preservation and perpetuation of a traditional craft with Arkansas roots. Rhea has been bladesmithing for more than 20 years. He is a mastersmith with the American Bladesmithing Society and studied at the Bill Moran School of Bladesmithing at Historic Washington State Park. His work as a bladesmith, knifemaker and metalworker has been recognized nationally.
Paula Casey McGee
of Dover designs and creates soft-sculpture fantasy art with a unique and expressive style using hand-stitched fibers and delicate mixed media art. Her patterns are an extension of gratitude and fellowship to creatives and dreamers worldwide.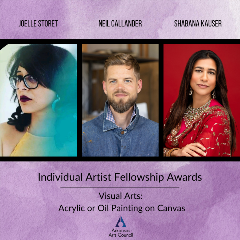 Visual Art: Oil or Acrylic Painting on Canvas
Joelle Storet
of Fayetteville is an acrylic and working artist who has lived in Northwest Arkansas for 20 years. Currently, she teaches portraiture and languages at a nonprofit that supports adults with learning challenges.
Neil Callander
of Fayetteville is an artist and educator. Born in Louisville, Kentucky, he earned a Bachelor of Fine Arts from Indiana University and a Master of Fine Arts from Mason Gross School of the Arts at Rutgers University. He exhibits widely and is an art professor at the University of Arkansas.
Shabana Kauser
of Fayetteville is an oil painter whose works are influenced by her shared experiences as the daughter of Pakistani immigrants to the U.K. and as an immigrant to the U.S. Her work includes traditional fabrics and jewelry.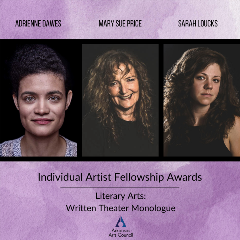 Literary Arts: Written Theater Monologue
Adrienne Dawes
of Fayetteville is an award-winning writer, producer and teaching artist who is originally from Austin, Texas. She received her Bachelor of Arts from Sarah Lawrence College and studied sketch writing and improv at the Second City Training Center in Chicago, Illinois.
Mary Sue Price
of Fayetteville has deep roots in the Ozarks. Her plays have been produced throughout the United States. An Emmy-award winning television writer, she holds a Master of Fine Arts in Dramatic Writing from Tisch/New York University.
Sarah Loucks
of Fayetteville is a playwright and theater-maker based in Northwest Arkansas. Her work has been performed and developed in New York, Arkansas, Texas and Iowa. She often writes about labor, class and American entropy.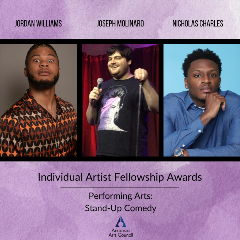 Performing Arts: Stand-up Comedy
Jordan Williams
of Fayetteville is an actor, comedian, student and professional stand-up comedian. He can be seen regularly at local venues performing stand-up comedy.
Joseph Molinaro
of North Little Rock is a native Arkansan and stand-up comedian, poet and aspiring novelist who has a law degree. He is also a failed male model.
Charles Nicholas Moore
of Maumelle was raised in the small town of Dermott, Arkansas. Since 2016, he has graced several stages in Arkansas and the U.S. with his Southern, yet witty comedic style. He can also be found serving his community in the health care field as a full-time registered nurse.
Recipients will be recognized and celebrated during a special reception from 5:30 p.m. to 8 p.m. on Monday, Oct. 16 at the Old State House Museum, 300 W. Markham St., Little Rock. The reception, which is free and open to the public, runs in tandem with the ArtLinks 2023: Designs for the Future, the statewide arts conference taking place Oct. 16 and 17.