When you are shopping for gifts this holiday season, think local with the museum stores of Arkansas Heritage!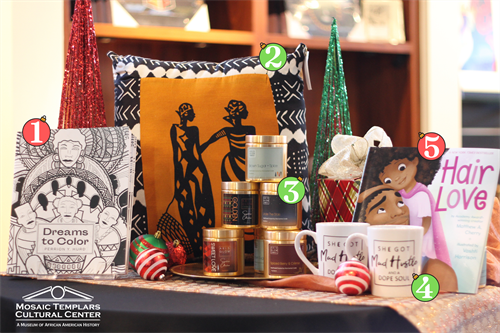 Mosaic Templars Cultural Center
1. Dreams to Color, $20 – This coloring book by local artist Perrion Hurd is a great gift for the kids, and for anyone who likes to unwind with some relaxing crayon-crafting.
2. Custom Crystal Pillows, $45 – These gorgeous and unique custom designed pillows from the Love and Unity Shop were made with Africa in mind. Each pillow has a crystal placed inside, and they are the perfect addition to any meditation room, or anywhere that needs that perfect accent.
3. Ari's Glow candles, $23 – These candles are handmade in small batches with clean, plant-based ingredients. Each candle Is made with you and your family in mind and a lot of love.
4. Lux & Soul "Dope Soul" coffee mug, $14.99 – Lux & Soul is a minority, woman-owned business located in Little Rock. These mugs are perfect for the busy soul in your life, to help her through the daily hustle.
5. Hair Love, $17.99 – "When mommy is away, it's up to daddy to do his daughter's hair in this ode to self-confidence and the love between fathers and daughters from former NFL wide receiver Matthew A. Cherry and New York Times bestseller Vashti Harrison."
Find these and plenty of other great gift ideas in the "Arkansas Made, Black Crafted" gift shop at the Mosaic Templars Cultural Center: A Museum of African American History.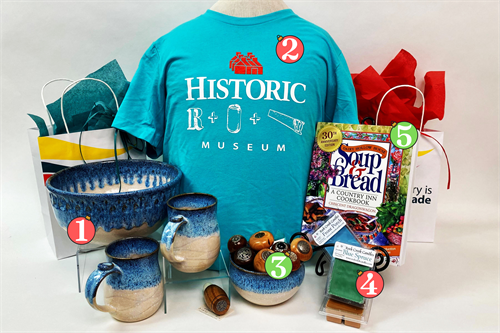 Historic Arkansas Museum
1. Cross Plains Pottery by Alexis Barber of Russellville, (Range $20-$50) - These ceramic bowls and coffee mugs were created by Alexis Barber of Cross Plains Pottery in her studio in Russellville, Arkansas. She combines throwing, carving, and hand building techniques to create textured pieces reflective of nature. All pieces are microwave, dishwasher, and oven safe. The large serving bowl is $50, small snack bowls are $20, and coffee mugs are $30. Other pieces in the line include wine tumblers, soup mugs, and trays.
2. Museum T-shirt with "R+Can+Saw" Logo, ($21.95, $19.95) -
Our proprietary museum logo T-shirt will clear up any confusion about how to pronounce Arkansas! Available in adult sizes in Teal or Black ($21.95), and in children's sizes in Harvest Gold or White ($19.95).
3.Wooden Bottle Stoppers by John Wilkins of Jacksonville, ($24) - John Wilkins of Jacksonville, Arkansas hand turns these beautiful wooden bottle stoppers with decorative metal inserts. At $24 each, these would make a nice Holiday gift. John crafts these stoppers in a variety of shapes and woods, including Elm, Cherry, Maple and Walnut.
4. Candle melts by Rock Creek Candles of Dover, ($6) - These all natural soy wax melts are a safe and convenient alternative to candles. Made by Rock Creek Candles in Dover, Arkansas, a 6pk costs $6 and comes in a variety of amazing scents, like Blue Spruce, Caramel Apple, Smoked Vanilla and Southern Comfort.
5. 30th Anniversary edition of
Soup & Bread
by Crescent Dragonwagon, ($24.95) - Crescent Dragonwagon's beloved cookbook, "Dairy Hollow House Soup & Bread" has been reissued in this 30
th
Anniversary Edition. Originating from her time running the Dairy Hollow House country inn and restaurant in Eureka Springs, the cookbook offers satisfying, innovative "nouveau 'zarks" cuisine.
Old State House Museum
1.
Gideon Shyrock: His Life and Architecture 1802-1880
, Winfrey P. Blackburn, Jr. & R. Scott Gill ($75) - Book on the life and work of Gideo Shyrock who designed the Old State House building, one of the finest examples of Greek Revival architecture west of the Mississippi River.
2. "Christmas in Arkansas" ornament ($5) - This ornament was designated the official Arkansas holiday ornament in 1991 by then Governor Bill Clinton. It features the diamond motif from the state flag and the visage of the Old State House Musuem.
3. The Tiny Twig bracelets ($16) - These delicate bracelets are beautiful in their simplicity. The Tiny Twig is located in Paragould.
4. "Arkansas Music Legends" T-shirt (S-XL $18, 2-3X $20) - These shirts are a great addition to your wardrobe. It features the names of all the incredible music talent that has come out of Arkansas, such as Johnny Cash, Al Green, Levon Helm, Justin Moore, Sister Rosetta Thorpe and more.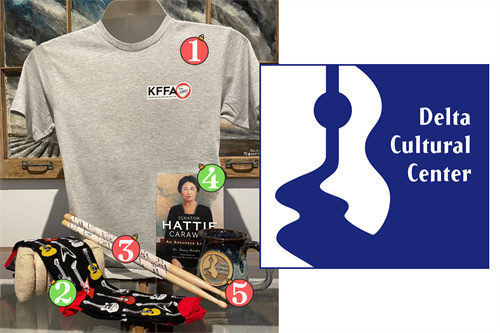 Delta Cultural Center
1. Musical Socks ($7.95) – These socks come in a variety of themes, but all related to music. Sizes range from kids to adult and are machine washable. They are distributed through AIM Gifts.
2. Drumsticks ($12.95) – Whether a student or professional, these wooden drumsticks are great gifts for anyone with a musical interest. Themes vary.
3. Senator Hattie Caraway: An Arkansas Legacy by Dr. Nancy Hendricks ($19.99) - This biography brings to life the amazing history of one of the most famous women in America. She was the first woman elected to the U.S. Senate in 1932.
4. Delta Cultural Center mug ($24.95) – These handcrafted stoneware mugs come in green and blue and are created in the USA.
5. KFFA T-shirt ($23) – This wonderful t-shirt comes in a variety of colors and sizes that range from small – XX Large. King Biscuit Time, which airs on KFFA, is one of the oldest running radio programs in history and first started at Helena in 1941.