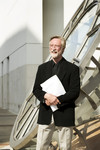 Michael Warrick, the 2020 Arkansas Living Treasure, has studied his craft of metalworking for 30 years and has become an international artist in his field. Recently, he drove to California to install his newest sculpture. Warrick took time to talk with us about the art of his craft and how it's important for our culture, history and heritage.
Q. How do you stay inspired?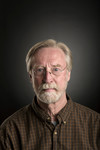 MW: I find inspiration all around me in the oddest and most interesting places. Sometimes ideas come from dreams or free association. Other times, they will be derived from a great conversation with a friend or student. That is why I keep a sketchbook with me all of the time. It allows me to draw or write down ideas that sometimes grow into minor or major creative events within my studio practice. A brief sketch might turn into a monumental sculpture or it will become a series of small clay or bronze sculptures that express important issues that are happening in mine and others' lives.
Q. What makes your artwork important?
MW: I think what makes an artist's work important is if it is understood, appreciated and supported because art reflects the history, culture and important issues of the time. I have been very fortunate to live in a place that has been supportive of what I have designed, created and displayed through private collectors, public places, galleries and museums.
A few pieces of public art that have been well received are in Little Rock, Arkansas, and Hanam, South Korea. Below are some examples of and meanings behind my artwork:
At the University of Arkansas for Medical Sciences' Winthrop Rockefeller Cancer Institute in Little Rock, there is a Garden of Hope in the atrium of the building. In that Garden is the "Seed of Hope" sculpture that was designed and created as a commission for UAMS. It is designed to reveal to patients the hope that the Cancer Institute can provide. Within the carved stone sculptural seed-like vessel form, there are hundreds of small pewter seed-like tokens. These tokens are a symbol of a patient recovering from cancer through the care given to them at the Cancer Institute. So, when a new patient is diagnosed with cancer, they bring the patient to "Seed of Hope" to reveal to them this concept and the potential for hope in their recovery.
At the National Park Service's Central High site in Little Rock is the Commemorative Garden that honors the "Spirit of Central High" and the Little Rock Nine. This garden was designed and created in 2001 by me and my former business partner Aaron P. Hussey. Our goal was to create a garden space with pathways, benches, trees and arches that reflected on the history and the spirit of Central High. As you walk into the park area, you enter on a winding pathway. Along this pathway are nine benches and trees that honor the Little Rock Nine. In the center of the park environment are two arches that are reminiscent of the architectural style used in the main entrance to the Central High School building. On the back side of these arches are photo essays of the history of that "Spirit of Central High" from the building's construction in 1923 to 2001. Part of the history revealed in the photo essay is the 1957 integration crisis, as well as President Bill Clinton giving the Little Rock Nine the Presidential Medal of Freedom. This work celebrates history, education, equality and strength of character.
In 2017, I was commissioned by the Little Rock Sister City Commission to create a sculpture that would be placed in Hanam, South Korea. This sculpture was to be a gift from the City of Little Rock to celebrate the 25th year of Little Rock's Sister City relationship with Hanam. In this work, I developed the concept of a youthful growing figure made of Arkansas vines. Within that figure was a small golden bird perched near the heart of the sculpture. This work was created through drawings and digital 3-D designing. It was 3-D printed at life size, cast in six parts, and assembled and shipped to Hanam. This sculpture, called "Youth," celebrates the importance of mentoring youth through quality cultural education and international travel.

Q. Why do you love doing what you do?
MW: I am challenged to create something that is meaningful for our lives. I am looking for meaning in what I do when it is under development, when it is being created, when it is finished. Also, later on, when I have not seen it for many years, I find something else that I did not see before. The meaning of something we have created evolves over time because our interpretation of life progresses with age. So too does the viewer have a growing interpretation over time. An example of this is when a viewer goes back again and again to view and experience work. Why do they go back again and again? To see more, to understand more, to feel more, to reflect on who you are now and how the idea behind this work continues to speak to them. I am currently reading "The Grapes of Wrath" by John Steinbeck for the fourth time. By reading this book again, I have begun their journey again. I have begun seeing each member of the family with more depth and a better understanding. What are they facing individually and as a family? I see an interesting correlation to what we are experiencing in these trying times of 2020. What are we facing and how are we meeting the challenge? What does it mean? Meaningful art calls us back to continue the experience again and again. It is my hope that what I create can have meaning in our lives. It may help us see beyond the surface to find an experience that is meaningful to us. Connecting to our audience is what artists hope to accomplish.
Q. Why do you love the challenge of your craft?
MW: If I do something that is challenging, I expand what I know and learn. I may fail along the way many times. But, by being tenacious and accepting and learning from failure, I can evolve in a way that was not possible before. We think, create, fail, grow and evolve a new way of thinking when we challenge ourselves.
Q. What has been your greatest success or failure?
MW: I would say my greatest successes would be a 30-year marriage and the raising of two creative, strong and independent-minded individuals. My wife is Judy Lohmar. My daughter, Annika Warrick, is 24 and a writer and art historian. My son, Phillip Warrick, 23, is in his fifth year as an architecture student at the University of Arkansas at Fayetteville.
Q. What have you experienced or done during the Covid-19 crisis?
MW: I have experienced time to be creative in the studio and had much time to reflect on the value of all my relationships.